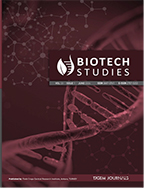 June 2021 issue of our Biotech Studies journal is online.

We have updated our journal!
'Biotech Studies' is the successor to the 'Journal of Field Crops Central Research Institute' (Tarla Bitkileri Merkez Araştırma Enstitüsü Dergisi). On the basis of the experience and strengths of its predecessor, 'Biotech Studies' has been developed to create a truly international forum for the research communication in biotechnology science.

Biotech Studies is indexed in TÜBİTAK-ULAKBİM TR INDEX, Crossref and Google Scholar databases. 

Dergimizde yayımlanan makaleler Üniversiteler Arası Kurul Başkanlığı tarafından belirlenen Doçentlik başvurularında yer alan "ULAKBİM tarafından taranan ulusal hakemli dergilerde yayımlanmış makale" kriterine uygundur.

As of our June 2021 issue, print publication will be discontinued. Manuscripts will be published online in electronic form.

Our journal arranged the articles according to the APA 7 (2020) rules and demands that the studies be prepared according to the latest APA format. Journal guidelines for APA reference are available on our website and in the author's instructions.
Biotech Studies