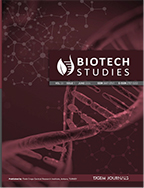 The last issue of Biotech Studies journal (Vol 31, No 1) has now been published online.

Biotech Studies is indexed in TÜBİTAK-ULAKBİM TR INDEX, Scientific Indexing Services, Crossref, and Google Scholar databases.

Dergimizde yayımlanan makaleler Üniversiteler Arası Kurul Başkanlığı tarafından belirlenen Doçentlik başvurularında yer alan "ULAKBİM tarafından taranan ulusal hakemli dergilerde yayımlanmış makale" kriterine uygundur.

1st International Congress on Biotechnology Studies (ICBIOS 2022) will be held on November 9-11th 2022, Online.

Our journal arranged the articles according to the APA 7 (2020) rules and demands that the studies be prepared according to the latest APA format. Journal guidelines for APA reference are available on our website and in the author's instructions.
Biotech Studies